From The Make Shed's Handmade collection.  Back orders take around 2-3 weeks
Handmade in Britain
These heavy duty linen Jeans are incredibly versatile to wear, available in 2 sizes (size 1 – 10-12, Size 2 – 14-16)  and three colour ways.
Fitting neatly on the waist these pull on flattering linen crop jeans have a  fly front detail, generous pockets and Belt loops. The Back having elastic waist for extra comfort, patch pockets and Belt loops.
A wonderful garment for everyday wear or a special evening out these wide leg crop jeans are a must for your wardrobe.
Style with; The Make Shed's Puffed sleeved box top, Painted T shirt, plain t shirt or Painted wrap top, and for cooler days try teaming up with the chunky bomber.
Care
100% Italian soft washed Linen,. Wash at 30 degrees.
The garment may shrink slightly with the first wash.
Measurements (approximate)
Size 1- Waist 68cm (when stretched 98cm)
Size 2- Waist 74cm (when stretched 102cm)
Inside leg 56cm
Outside leg 87cm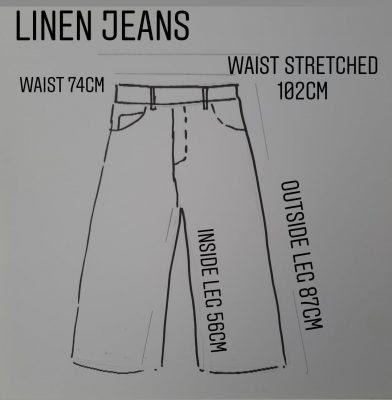 Model @astridiwantyouinmylife